You are here:
Home
/
Archives for iPad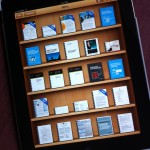 Want to take some time on your holiday to catch up on some important reading but don't want to take reams of paper with you? Have commuting time to pass and need something more stimulating to read? Find yourself unexpectedly waiting…and waiting…and waiting…? Preload your iPad with a stack of PDFs you never seem to […]
Demo, Front Page, How-To, i-Devices, Video
Tagged With: Holiday Reading, How-To, iPad, iPad for Business, iPhone, iTunes, PDFs, Tips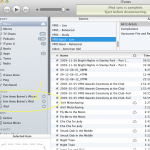 I had a recent question about how to remove all the unwanted content on an iPod. Kathy only wanted to have music on her iPod, now that she had both an iPhone and an iPad to work with, and she had decided now to leave her iPod attached to the stereo in the living room. […]


Based on instructions from http://blog.threepress.org/2010/12/16/running-epubcheck-on-your-computer/ but clarified a little more by Erin Anne… Check to make sure Java 1.5 or higher is installed on your computer (this is native in Macs, but run Software Updater just to make sure you have the latest version already). Go to http://code.google.com/p/epubcheck/ to download the latest version of ePubCheck […]
Featured, Front Page, How-To, Publishing, Resources
Tagged With: ebook, ePub, epubcheck, How-To, iBook, iPad, Publishing

Steve asked a great question about uploading photos to Cincopa from an iPhone. His question is in response to this post: "How-To: Photo gallery using Cincopa-Wordpress-iPhone-Autostitch". Steve asked, "How did you upload your photos from your iPhone to your Cincopa gallery? Is there an app for that?" Here is my response, FWIW… Heh, good question, […]

Instructions on how to make an ebook from a document on your computer (Word, PDF) so you can read it on your iPad, Kindle, or other e-reader. Includes a 10-minute video with lots of detail, and a bare-bones text list for easy reference.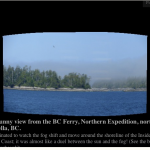 HOW-TO: Make a web-based photo gallery using Cincopa and WordPress, with a bonus: how to create panorama photos using just an iPhone and the AutoStitch App!
Blog, iPhone/iPad, Tips and Tricks, Using your Mac
Tagged With: Apps, Blogging, Cincopa, How-To, iPad, iPhone, Picture, Tips, Tools, WordPress
Great Deals on Graphics and Web Design Elements
Reading List
I just got this title from the Amazon Store:
"10 Street-Smart Secrets of an Email Marketing Strategist Who Lives and Dies By His Results" [Kindle Edition] by Ben Settle.
I'll let you know what I think of it in a post, soon.