You are here:
Home
/
Archives for Friday Fun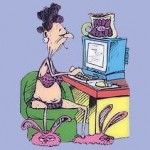 A friend, who also uses her computer every once in a while — uh, make that leaves her computer once in a while, sent me this. I hope you enjoy it, too! ea/ MY LIVING WILL Last night, my kids and I were sitting in the living room, having a chat. I said to them, […]

Apparently, a lot. You've got to read the story this guy tells about trying to name his puppy "Snowball." Words elude me. ea/ http://digitalroam.typepad.com/digital_roam/2009/07/meet-the-puppy-police-worst-userexperience-ever.html
Great Deals on Graphics and Web Design Elements
Reading List
I just got this title from the Amazon Store:
"10 Street-Smart Secrets of an Email Marketing Strategist Who Lives and Dies By His Results" [Kindle Edition] by Ben Settle.
I'll let you know what I think of it in a post, soon.