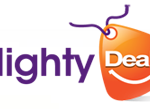 Here are all the current (time-limited) deals offered by MightyDeals.com. We use this site to purchase web tools and graphics for on- and offline projects often, but haven't used every product they promote here.
Great Deals on Graphics and Web Design Elements
Reading List
I just got this title from the Amazon Store:
"10 Street-Smart Secrets of an Email Marketing Strategist Who Lives and Dies By His Results" [Kindle Edition] by Ben Settle.
I'll let you know what I think of it in a post, soon.