You are here:
Home
/
Archives for iPod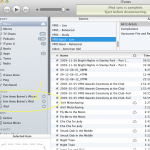 I had a recent question about how to remove all the unwanted content on an iPod. Kathy only wanted to have music on her iPod, now that she had both an iPhone and an iPad to work with, and she had decided now to leave her iPod attached to the stereo in the living room. […]
Great Deals on Graphics and Web Design Elements
Reading List
I just got this title from the Amazon Store:
"10 Street-Smart Secrets of an Email Marketing Strategist Who Lives and Dies By His Results" [Kindle Edition] by Ben Settle.
I'll let you know what I think of it in a post, soon.