You are here:
Home
/
Archives for How-To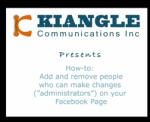 Short instructional video on how to add and remove people as administrators on your Facebook Page. We can all use a little help sometimes, and working on our Facebook Page is no exception, especially if it's a business page. Here's how you add a new administrator onto your Facebook Page, and also how you can […]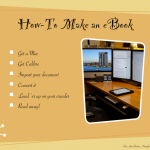 How to take a document and turn it into an ebook using a free (donations gratefully accepted, I'm sure) application for Mac users. [UPDATE Aug 2013: These instructions were prepared several iterations of the application ago. You will find that some of the look and use of the application is a little different now. Also, […]

[UPDATE Aug 2013: I've now stopped using Cincopa and am experimenting with other image gallery tools. Stay tuned for an updated post!] In order to expand the media resources I can share through a variety of websites, I'm experimenting with a few new tools, and thought I'd share the journey with you! I should point […]
Great Deals on Graphics and Web Design Elements
Reading List
I just got this title from the Amazon Store:
"10 Street-Smart Secrets of an Email Marketing Strategist Who Lives and Dies By His Results" [Kindle Edition] by Ben Settle.
I'll let you know what I think of it in a post, soon.