You are here:
Home
/
Archives for Tech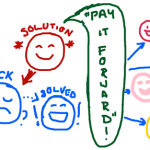 After nearly twenty years online, I'm very happy to report that the early-days attitude of caring and sharing and helping complete strangers with their tech issues via online discussions and forums has not ended. Not even close. Besides an amazing weekend at WordCamp Vancouver 2012 and BuddyCamp Vancouver, with volunteer experts coming from around the […]
Blog, Featured, Front Page, How-To
Tagged With: How-To, IP Address, Problem Solving, Resources, Router, Software, Tech, Thoughts, WiFi
Great Deals on Graphics and Web Design Elements
Reading List
I just got this title from the Amazon Store:
"10 Street-Smart Secrets of an Email Marketing Strategist Who Lives and Dies By His Results" [Kindle Edition] by Ben Settle.
I'll let you know what I think of it in a post, soon.