I usually experience newspaper ads as "white noise," something that drifts somewhere below my "ken," my conscious awareness.
Every once in a while, though, one (like this one) or, as in today's example, two, pop out and grab me by the eyeballs.
Here is today's exhibit, as the pair appeared in a recent copy of the Surrey Now, a community newspaper.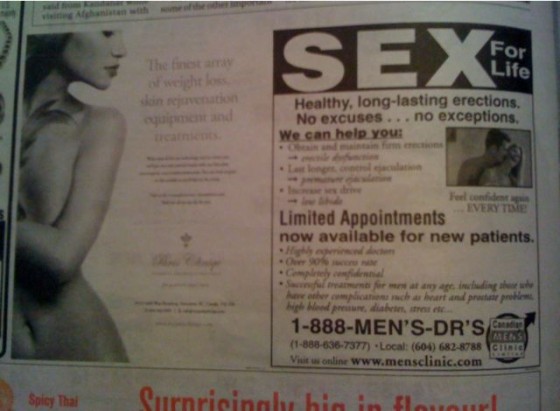 (You can see close-up views of both ads at the end of this post.)
I am convinced I would have seen neither, as usual, if they had not been placed side by side like they were.
They contrast each other in so many ways: one strives for elegance, the other for bluntness; one is for a female audience, the other is for the men; one is visually soft and delicate, the other is loud and bold; one is spare and uncluttered, the other is jam-packed from edge to edge; one captures the visual mind, the other the kinesthetic imagination; one is about subtle references that tip-toe around the subject of sex, the other is explicitly about the pleasures of the body…
(I could go on, but I'll spare you!)
At the same time, these two ads share a common bond: both are selling items and/or services intended — at least by implication — to make us more attractive to the opposite sex.
Had these ads been placed apart, I'm sure I would have seen neither. By placing these two ads together, using the power of juxtaposition, shocking my eye and calling my brain to pay attention, I saw them both.
There is something about it all that appeals to my (woefully imperfect) ideas about yin and yang…
Cool…
Does it work for you, too?
ea/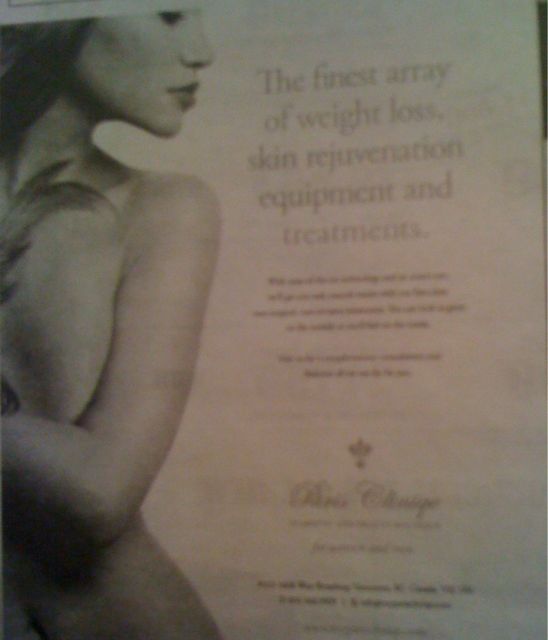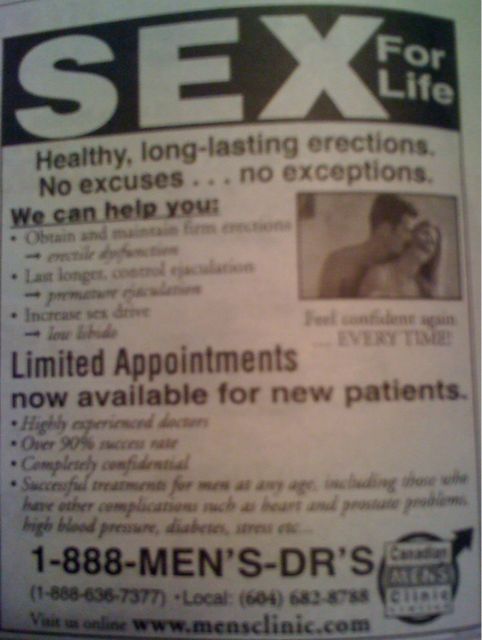 Title Image by mamjodh